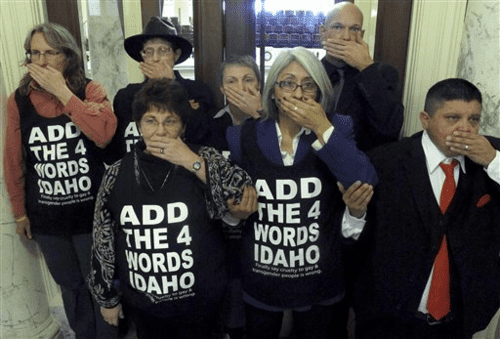 Twenty-three LGBT rights activists who were arrested earlier this year at the Idaho state capitol for blocking entrances to the statehouse have been sentenced, The AP reports:
Each protester was given a chance to offer a brief statement before being ordered to pay court costs based on how many times they were arrested.
At times, the courtroom became emotional after attorneys called two mothers who both had a child commit suicide after facing discrimination to speak…
Testifying for the state, Idaho State Police Major Steve Richardson said group's peaceful demeanor helped the arrests go smoothly, but they still put a burden on the state's limited staff and resources.
The demonstration was meant to persuade legislators to amend Idaho's Human Rights Act to include protections for LGBT Idahoans. The protesters wore shirts that read, "Add the 4 words Idaho," referring to the terms "gender identity" and "sexual orientation" they sought to be added to the human rights act.
The protest cost the Idaho State Police approximately $24,000 according to Major Richardson.  
The presiding judge respected the protesters for how they conducted themselves but also called upon them to accept the 'consequences' of their protest:
District Judge Michael Oths said he appreciated the group's approach in its multiple protests. He added, however, that America's history of civil disobedience has involved accepting consequences for breaking the law.
"You put your name on the line, and it's not easy to do that," Oths said. "I think people have been responsible in their approach."