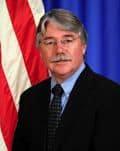 WLKY reports that Indiana Attorney General Greg Zoeller (pictured) is pushing for an unorthodox process of appeals for the state's recent marriage ban overturn.
Over the weekend, the AG's office released a statement saying they had filed a new motion late Friday. In this motion, AG Zoeller has proposed that the entire 10-judge 7th Circuit Court of Appeals should hear the appeal on the marriage ban overturn, while the state's usual procedure to decide this matter would be a three-judge panel.
For LGBT Indianans in gay marriage limbo, Zoeller claims that moving the case before the full court would speed up the process. Further, as WLKY points out, in a separate move on Friday the 7th Circuit court decided to combine Indiana and Wisconsin's legal proceedings into one decision and put it on the fast track, which will surely speed the process for both states.