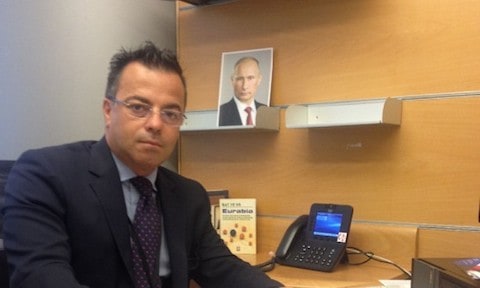 Well this is bound to go over well and not incite any sort of backlash: Mayor Gianluca Buonanno of Borgosesia and Italian MP for the Northern League has proposed penalizing any forms of homosexual public displays of affection, such as kissing, with a €500 fine. Said Buonanno (rough translation):
Gay kisses in public? No thanks. Not only. From today in my Mayor and MEP offices there will be a photo of Putin. I don't like that two people of the same-sex exchanges public displays of affection. It's a matter of respect. And I am convinced that is morally harmful for children.
Hiding behind vague conditions of "respect" and protecting children? Sounds Putin-esque, for sure.
Buonanno apparently has a reputation for showboating, such as arriving at the European Parliament in a burqa, using a bass as a prop, blowing soap bubbles, and shredding the European Union flag to use as a handkerchief. In other words, he's not such a deep thinker and is more of a hyperventilating grandstander of the Peter LaBarbera/Todd Starnes/Matt Barber variety.