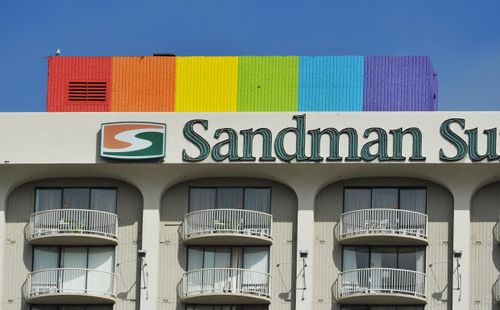 Just in time for Vancouver's pride events in late July and Early August, the city's skyline now features a permanent display of LGBT pride. The Sandman Suites Hotel on Davie Street in Vancouver's gayborhood (Davie Village) has painted a 55-foot wide rainbow on to the very top of their roof.
Vancity Buzz has a quote from Valentina Tang, General Manager of the hotel. She says:
We are proud to call this community our home and want to illustrate our pride by painting the iconic rainbow crowned on-top of our hotel…The concept behind the painting was: A heart of gold is where the rainbow begins. We are an inclusive organization and always like supporting our local communities.
Next time you're flying over Vancouver, keep your eyes peeled!
[Thanks to Lucas for the tip! Image via The Vancouver Sun — Wayne Leidenfrost , PNG]