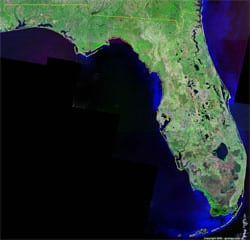 A judge in Miami-Dade County has dealt another blow to Florida's ban on gay marriage, NBC South Florida reports:
A Miami-Dade judge has ruled in favor of gay marriage, saying the ban violates the 14th Amendment. The judge said Florida's constitutional ban "offends basic human dignity."
Miami-Dade Circuit Judge Sarah Zabel has stayed the order, meaning it wouldn't take immediate effect pending an appeal.
Wrote Zabel in the ruling:
In 1776, our Nation's Founders went to war in pursuit of a then-novel, yet noble, goal: the creation of a government that recognizes its people are "endowed . . . with certain inalienable rights" and that all are equal in the eyes of the law. THE DECLARATION OF INDEPENDENCE, para. 2 (U.S. 1776). Unfortunately, history shows that prejudice corrupted the implementation of these ideals and that the corrective wheels of justice turn at a glacial pace. Slavery, for instance, plagued this nation from the time of its birth, and it took a bloody civil war, nearly one hundred years later, to break free from this malady. Segregation, though, took slavery's place, and it was not until the 1960s that we rid ourselves of this similarly horrible disease. Women too, had to fight for equality, and it was not until 1920 that they were first able to vote. Nevertheless, like race, it was not until the social unrest of the 1960s that gender equality had any meaning. The Native Americans also faced rampant discrimination until the 1960s and 1970s as well.

Notably absent from this protracted march towards social justice was any progress for the gay, lesbian, bisexual, and transgender community until quite recently. However, as evidenced by the avalanche of court decisions unanimously favoring marriage equality, the dam that was denying justice on this front has been broken. The Court, nonetheless, recognizes that its decision today is divisive and will cause some Floridians great discomfort. This decision, though, "is not made in defiance of the great people of [Florida] or the [Florida] Legislature, but in compliance with the United States Constitution and Supreme Court precedent. Without a rational relation to a legitimate governmental purpose, state-imposed inequality can find no refuge in our United States Constitution." De Leon, 975 F. Supp. 2d at 665-66. …
The ruling: