BY JOSEPH EHRMAN-DUPRE
Boyhood is a concept film, but it does not feel like one. Filmed over 12 consecutive years, using the same actors to portray the same characters as they age naturally, Richard Linklater's newest feature is a structured journey through time. The best part about it, though, is that the nearly three hour, briskly paced film feels unstructured and unrestrained, a listless walk (and sometimes run) alongside Mason (Ellar Coltrane, bravely putting his most awkward years on display).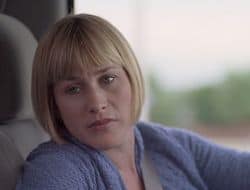 The narrative of the film, befitting its sprawling time frame, is difficult to describe succinctly. It feels as though a great deal happens, and also as if nothing happens, a mirror held up to the swiftly moving complexity of lives that sometimes feel dull and plodding. We do get to know several characters well along the way, though. Mason's single mom (Patricia Arquette) has bad luck choosing men and proves alternately caring and prickly toward her son and daughter, Samantha (Lorelei Linklater, the director's daughter and a natural comedian). Their dad, (Ethan Hawke, who grows more handsome as the film progresses) when we first meet him, has been largely absent, but, when he decides to come around, figures as an exciting and likable savior from the mundanity of everyday life. 
As a child, Mason and his sister go bowling with dad; a neighborhood friend shows off a Victoria's Secret catalogue and they ogle the women inside; mom remarries a psychology professor and goes back to school herself. In his early teenage years, Mason drinks his first beer and alludes to several girlfriends ("We have nothing in common," he laments to his dad) and his mom undergoes yet another divorce. High school brings a focused interest in photography, first time employment, a serious girlfriend, and the beginnings of collegiate aspiration. Cultural artifacts, from Obama-Biden campaign signs to Harry Potter midnight release parties, fill in the nooks and crannies.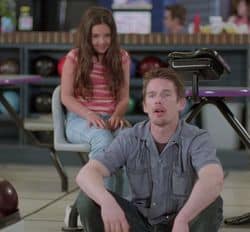 It is incredible, really, just how much life Linklater brings into focus, and how easily enjoyable the film remains throughout. He avoids ticking off easy categories of development, opting instead for intimate scenes of sometimes awkward dialogue between members of the family, their friends, and acquaintances. Mom bears the heaviest emotional load, dad remains aloof and carefree, and the kids seem to be doing exactly what they would be doing when they aren't shooting a film. It is clear that Linklater collaborated with his actors on the screenplay, which never feels forced.
The film is shot in a naturalistic style as well, unconcerned with picturesque beauty–save for when the characters themselves notice it–and captivated by the constantly shifting faces of Mason, his parents, and his sister. Also changing is the soundtrack, an audible timeline for those who will recognize minute evolutions in popular music across the twelve-year progression. Linklater thankfully never keeps viewers guessing about Mason's age, though, slyly editing between years in a way that never interrupts, and sometimes enhances, the narrative thrust. When mom meets the professor she will marry, for instance, he suggestively intones that their kids should have a play date while Mason looks on, seeing his mom blush perhaps for the first time; we cut at least one year into the future and Mason, Samantha, and two other children are bouncing on a trampoline in the backyard of a comparatively palatial residence. Mom and her new hubby are just returning from their honeymoon, and the audience is instantly aware of what sort of change has occurred.
Boyhood is a joyride, really, a pleasure cruise that left me smiling and feeling, well, alive. It resonates on such a deep level because it is so deeply personal, a collaboration between artists who spent over a decade developing characters and getting to know each other just as a family does. It has imperfections: the children's acting in particular can feel wooden, we miss all the times that are left out, and there could be more moments of driving dramatic force. But after leaving the theater, I found myself forgiving those flaws entirely. Perhaps it is because of Linklater's ambition and the relative aplomb with which he pulled off his vision, or perhaps it is because in life itself, flaws abound. 
Flaws and all, Boyhood is sure to be one of the most unique and fulfilling cinematic experiences you'll experience anytime soon.
Boyhood is now open in theaters nationwide. 
Check out a trailer for the film, AFTER THE JUMP…