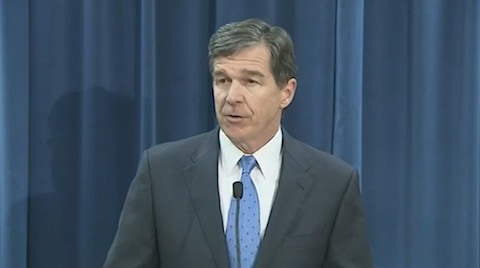 North Carolina's Attorney General Roy Cooper said today that he would no longer defend the state's gay marriage ban following the Virginia ruling today from the Fourth Circuit Court of Appeals, the News Observer reports:
Cooper said that in light of the decision it would be "futile" to continue arguing the North Carolina's case against same-sex marriage.
"I have concluded that the state of North Carolina will not oppose the cases moving forward," Cooper said before a bank of television cameras at his office in downtown Raleigh. "… Our office believes the judges in North Carolina are bound by this 4th Circuit decision."
Four cases are currently challenging North Carolina's ban on gay marriage. Cooper's decision will not immediately affect NC, the paper says, because no judge has ruled there, but it does pave the way for further equality rulings.
Added Cooper: "Our attorneys have vigorously argued this case every step of the way … There are really no arguments left to be made."
Watch video of Cooper at WRAL.