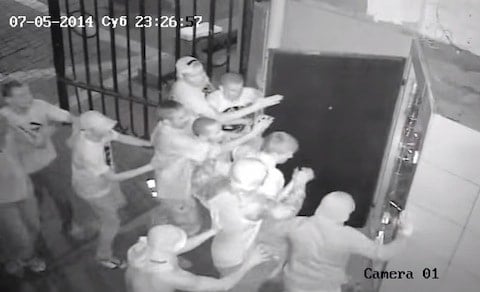 Just a few days ago Pride in Kyiv (or Kiev, if you prefer) was cancelled when city authorities cowardly backed out, stating that they wouldn't be able to provide protection for the marchers, despite being able to do so the year prior. The other evening a security camera for the gay night club Pomada captured why such protection is necessary.
A few patrons of the club are milling around outside, when suddenly they all rush inside just moments before a massive throng of Neo-Nazis rush to the door and try to force their way in, looking like a scene from 28 Days Later.
One patron didn't make it inside fast enough and was forced to flee with a few attackers in pursuit. The door eventually gets wrenched open and a few of the thugs make it inside, only to run out a few moments later. Reports stated that smoke bombs and firecrackers were thrown in, so presumably they fled once the mischief was done.
The video is unsettling, but you can watch it AFTER THE JUMP…