Summertime polar vortex prepares to cool the nation. "This is fall jacket weather, when it should be air conditioner, ice cream truck, and lemonade weather."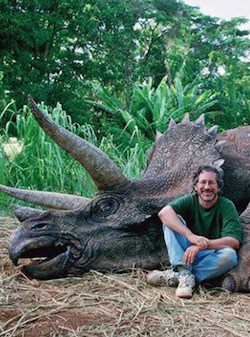 Steven Spielberg called out on Facebook for being a cold-hearted dinosaur killer.

Garrett Hedlund gives white T-shirt for Flaunt.

Gizmodo notes that NYC must have really smelled like s**t back in the summers of the late nineteenth century: "Crossing a street could be an unsavory affair. In New York city, by one estimate, horses left behind 2.5 million pounds of manure and sixty thousand gallons of urine every day. That amounts to roughly four hundred tons of manure a year — enough to float three Nimitz-class nuclear aircraft carriers and a half-dozen navy destroyers. Forget the smell and mess; imagine the flies."

The universe is 'missing' light: "Observations made by the Cosmic Origins Spectrograph, a $70 million instrument designed by the University of Colorado Boulder and installed on the Hubble Space Telescope, have revealed that the universe is  'missing' a large amount of light. 'It's as if you're in a big, brightly lit room, but you look around and see only a few 40-watt lightbulbs,' said the Carnegie Institution for Science's Juna Kollmeier, lead author of a new study on the missing light published in The Astrophysical Journal Letters. 'Where is all that light coming from? It's missing from our census.'"

Rafa Nadal hits the beach in Spain.

Justin Theroux does Details.

Supermodel magnate Eileen Ford dies: "Modeling agency founder Eileen Ford, who shaped a generation's standards of beauty as she built an empire and launched the careers of Candice Bergen, Lauren Hutton, Christie Brinkley and countless others, has died. She was 92 and died Wednesday of complications from a brain tumor and osteoporosis, according to Arielle Baran, a spokeswoman for Derris & Co., which handles public relations for Ford and announced the death Thursday."

Matt Barber: Parents should not send their kids to Christian colleges with gay clubs. "Replace LGBT or gay with any other sexual sin. If there's an adultery-affirming club at your potential university where you're sending your kids. Or a pedophilia-affirming club or an incest-affirming club."

Study: Food influences jet lag recovery.

Obama responds to Boehner lawsuit: "There are a number of Republicans, including a number in the Texas delegation, who are mad at me for taking these actions. They actually plan to sue me. Now, I don't know which things they find most offensive — me helping to create jobs, or me raising wages, or me easing the student loan burdens, or me making sure women can find out whether they're getting paid the same as men for doing the same job. I don't know which of these actions really bug them."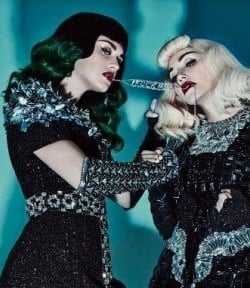 Outtakes from Madonna and Katy Perry's sexxxy V shoot.

Third Colorado county gives marriage licenses to gay couples: "Pueblo County joined Denver and Boulder County in allowing gay couples to marry a day after a state judge ruled the Boulder clerk can continue issuing the licenses."

Megyn Kelly calls Nancy Pelosi 'sexist' for slamming male justices on Hobby Lobby. "If Speaker John Boehner made a similar comment about the female justices, she would be crying sexism and that's what she is guilty of here."

Rob Portman candidacy presents "nightmare scenario" for Republicans: "It's not hard to imagine that Senator Ted Cruz might offer precisely the opposite case from Portman, making the argument that the party must reaffirm its support for "traditional marriage" key to his GOP presidential primary run. This could come after the Supreme Court has declared a Constitutional right to gay marriage — which Cruz would then be vociferously calling on Republicans to help roll back."