Appeals court to hear Indiana, Wisconsin gay marriage ban challenge in August.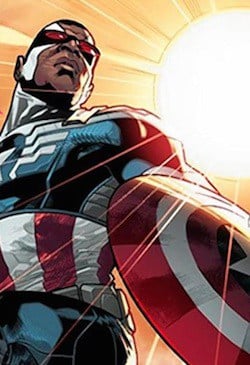 Captain America being relaunched, is now a black man.

Ohio attorney general filings preview gay marriage arguments: "In Tuesday's filing, DeWine argues that the same-sex couples who sued to force Ohio to recognize gay marriage have 'an expansive view of the judiciary's role to reshape society.'"

The new Airbnb logo is very sexual.

Simon Cowell's sexual orientation comes up at drug trial: "The drugs trial of N-Dubz star Tulisa took a sensational turn today as jurors were played a secret recording where the former X factor judge's manager Gareth Varey told 'Fake Sheik' Mazher Mahmood that Simon Cowell was gay."

Missouri church worker sues Catholic Diocese of Kansas City-Saint Joseph saying she was fired after marrying her female partner: "The lawsuit, filed in Jackson County Circuit Court in Independence, Missouri, against the Catholic Diocese of Kansas City-Saint Joseph and embattled church leader Bishop Robert Finn, claims fraud and violation of Missouri law. It states that Colleen Simon's same-sex marital status was known and accepted when she was hired to run a food pantry and oversee other social outreach efforts, but was used as a reason to fire her after it was publicized."

Charlize Theron and Sean Penn to marry?

Dutch footballer Robin van Persie is looking mighty hot and shirtless.

Here are the nominations for the 2014 MTV Video Music awards.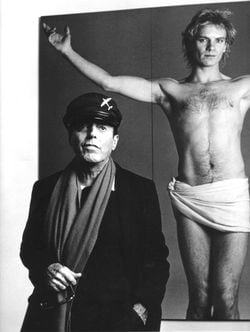 Battle over Francesco Scavullo estate leaves longtime partner in the dust: "The ailing gay lover and assistant of late fashion photographer Francesco Scavullo spent 34 years toting his equipment and setting up shoots — but now he'll have to keep his hands off the renowned shutterbug's valuable archive, a judge has ruled."

Michigan GOP sent staffers to secretly record a Democratic fundraiser. "Republicans do it; Democrats do it," Littell told The Detroit News. "People use different ways to get the footage. … This is a newer approach."

Surina Khan to become CEO of Women's Foundation of California: "Today, the Women's Foundation of California announced that Surina Khan, who has worked for the past 20 years as a leader in philanthropy, women's rights and Lesbian, Gay, Bisexual, and Transgender (LGBT) rights, will become the next CEO effective September 15."

Jennifer Aniston Courtney Cox, and Lisa Kudrow have a Friends reunion.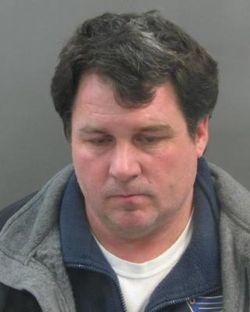 Former St. Louis police officer pleads guilty to harassing transgender man.

Dear Black Women: White gays are your allies so don't push them away. "Yet here's what else Mannie overlooks in her full-frontal assault: White gay men as a group could be the truest friends black women can have in American society. No alliance is perfect, but this one has the potential, if nurtured properly, to reconfigure the stories of race and gender. White gay men — once intensely vilified but now able to harness our white male privilege for good, having learned what being on the outside is like — are a conduit through which black women can work against both countervailing forces that push them down."

Anti-gay group sues Illinois college: "Wayne Lela and John McCartney, members of Heterosexuals Organized for a Moral Environment, allege they were not allowed to pass fliers out to students on one of Waubonsee's campuses even though they did not violate any college rules. It wasn't specified which of the four campuses they were denied from."