Texas Attorney General Greg Abbott filed a brief on Monday defending the state's gay marriage ban, LoneStarQ reports: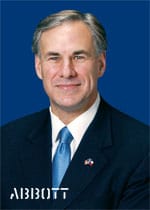 Abbott's office filed its initial brief Monday appealing U.S. District Judge Orlando Garcia's February decision, which found that Texas' marriage bans violate the U.S. Constitution's guarantee of equal protection under the law.
Abbott's appeal was filed on the same day that the 4th U.S. Circuit Court struck down Virginia's ban as unconstitutional, becoming the third federal appeals court to rule in favor of marriage equality. In its 42-page brief filed Monday, Abbott's office argues that the issue should be settled by voters and state legislatures, not the courts.
The American Statesman reports on the filing, which focused on the thus-far failed conservative argument that marriage's purpose is procreation:
"By recognizing and encouraging the lifelong commitment between a man and woman — even when they do not produce offspring — the state encourages others who will procreate to enter into the marriage relationship," Abbott said in the state's first brief, filed late Monday at the 5th U.S. Circuit Court of Appeals.
Promoting opposite-sex marriages "increases the likelihood that children will be born into stable environments where they are raised by their mother and their father," Abbott argued.
Such family structures are good for the children's well being and good for the state because they increase the likelihood that parents, not society, "will bear the cost of raising these children," the brief said.
"Because same-sex relationships do not naturally produce children, recognizing same-sex marriage does not further these goals to the same extent that recognizing opposite-sex marriage does," Abbott said.
LoneStarQ also notes that "Abbott's office rejected the delivery of 5,200 petitions calling for him to stop defending Texas' bans on same-sex marriage."
Read the brief below: