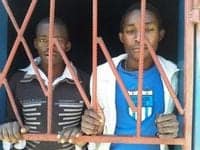 The Zambian gay couple charged with sodomy last May have been acquitted. The decision comes after pressure from Amnesty International on the country to release the men — as well as a November 2013 speech on the importance of gay rights from Zambian First Lady Dr. Christine Kaseba-Sata.
The reason for the men's acquittal, however, is decidedly less indicative of political change in Zambia.
Zambian Magistrate John Mbuzi acquitted the men on grounds that the state failed to prove the case beyond reasonable doubt, deeming the prosecution's evidence against the two men hearsay. The two men — Phillip Mubiana, a bricklayer, and James Mwape, a hairdresser — both 22 years old — could have each faced a prison sentence of up to 15 years if they had been found guilty of the charges.
(h/t AllAfrica)