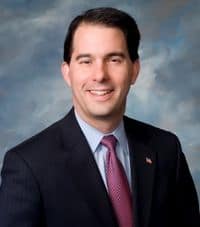 A group of 15 Democratic state senators in Wisconsin sent out a letter on Wednesday urging Gov. Scott Walker and fellow Republican Attorney General J.B. Van Hollen to drop their defense of the state's ban on same-sex marriage, arguing it's a waste of taxpayer money.
Last week, Van Hollen filed an appeal to U.S. District Court Judge Barbara Crabb's June 6 ruling that overturned the state's ban. Walker is named defendant in the lawsuit.
The AP reports:
Walker spokeswoman Jocelyn Webster says "Walker takes seriously the oath of office that he took to support the Wisconsin Constitution. If others do not take that oath seriously, that is their decision."
Van Hollen's spokeswoman Dana Brueck says he is fulfilling his oath and doing his job.
Arguments are set to be heard before the Seventh Circuit Court in Chicago on August 13.