Utah has filed an emergency request with U.S. Supreme Court Justice Sonia Sotomayor asking her for a stay of the order forcing Utah to recognize nearly 1200 gay marriages performed there, FOX13Now's Ben Winslow reports: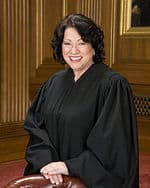 In the filing, special assistant attorney general Gene Schaerr refers to the marriages as "interim marriages" and writes that the nation's top court is likely to take the Amendment 3 case and rule in Utah's favor.
"Utah believes it is highly likely — and certainly likely enough to warrant a stay — that at least four Justices will vote to grant certiorari if the district court's decision is affirmed, and that at least five Justices will agree with Judge Kelly that the district court's sweeping legal conclusions 'simply cannot be' — and emphatically are not — 'the law.' Indeed, the district court's misunderstanding of the legal status of a law subject to a non-final decision of unconstitutionality is so fundamentally erroneous, and arises in a context of such importance to all of the states and to this Court, that a summary reversal could well be in order," he wrote.
The 10th Circuit Court of Appeals ordered Urah to recognize the marriages last Friday, and the state said it planned to appeal to Sotomayor.
Read the brief below:
Application for SCOTUS Stay Final (w Addenda) (1) by Ben Winslow