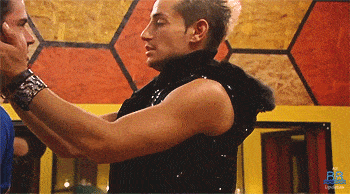 Is the bromance becoming a showmance? Whatever we call it, the relationship between Big Brother 16 contestants Frankie and Zach (aka 'Zankie') continues to heat up with the two almost locking lips and confessing that they are in love with each other. 
BigBrotherDish has the transcript of how things went down on the live feed:
July 25, 12:55pm, Camera 2. HoH Room. Frankie and Zach.
Zach: What up, Frankie?
Frankie jumps into bed to spoon Zach.
Frankie: I'm like falling in love with you a little bit.
Zach: Are you?  I'm in love with you.
Frankie: A little bit.
Zach: I'm in love with you, without a doubt. 
Check out a GIF play-by play of Zankie's love confession and, as a bonus, watch Frankie give Cody's butt a deep tissue massage, AFTER THE JUMP…
(GIFs via AllBBUpdates and Zankie)