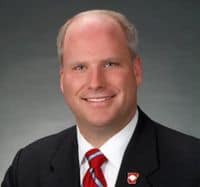 Arkansas' Attorney General Dustin McDaniel is asking a federal judge to keep the state's ban on same-sex marriage in place, arguing the ban is constitutional and serves a legitimate purpose.
Arkansas News Bureau reports:
In a brief filed Wednesday, McDaniel's office argued, "The United States Supreme Court has recognized a bevy of legitimate state interests that are directly implicated and furthered by Amendment 83 and Act 144 of 1997."
The attorney general's office argued that those interests include preserving the referendum process; advancing procreation; promoting stable family environments in which children are raised by their biological parents; preserving social norms linked to the historical and deeply-rooted meaning of marriage; and taking a cautious approach to governmental social experimentation. 
In May, McDaniel announced his support for marriage equality but pledged to defend his state's ban on same-sex marriage.