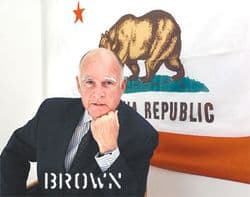 Under California state law, murder charges can be reduced to manslaughter if it is shown that the act took place suddenly or in the heat of the moment. These events could be deemed "panic" killings, but as of now it is viable for killers to suggest that a person's gender or sexual identity triggered the "panic." If AB2501, which passed the California Assembly in a 50-10 vote on Wednesday, is approved by Governor Jerry Brown, the "gay panic" defense will no longer be allowed in courts. 
The Sacramento Bee reports:
AB2501 by Democratic Assemblywoman Susan Bonilla of Concord would bar defendants from using their victims' gender or sexual orientation to support a so-called panic defense.
Bonilla says such defenses legitimize violence against lesbian, gay, bisexual and transgender people.
The American Bar Association urged governments to curtail the use of panic defenses. The gay rights group Equality California says California would have the first statewide prohibition.
Governor Brown has a good track record with LGBTQ issues; hopefully the Golden State is on its way to making history with this new legislation.