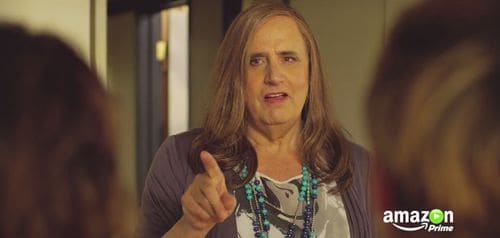 Amazon's new original series "Transparent" is set to premiere on September 26th (with all ten episodes available to stream on Prime Instant Video), but until then the wonderful trailer for this darkly comic story will have to tide you over. 
"Transparent" follows the various members of the Pfefferman family as they come to terms with their patriarch, Mort (Jeffrey Tambor), announcing that he is now Maura. The trailer promises a great deal of humor and drama, as well as affecting performances from a stellar cast. 
The Amazon press release reads:
Written, directed and executive produced by Emmy-nominee and 2013 Sundance Best Director winner Soloway, Transparent is a ten episode, half hour novelistic series that explores family, identity, sex, and love. The series stars Tambor as Maura, who has spent her life as Mort—the Pfefferman family patriarch. When she reintroduces herself to her family, everyone's secrets finally start to come out. This includes her ex-wife Shelly (played by Light), and their children—meandering Ali (played by Hoffmann), record producer Josh (played by Duplass), and sexually conflicted Sarah (played by Landecker). Each family member spins in a different direction as they begin to figure out who they are going to become.
"We couldn't be more pleased to offer our customers all episodes of Transparent in late September," said Roy Price, Director of Amazon Studios. "Jill has an amazing ability to create deep, engaging and rich stories and characters. We think customers will enjoy this fresh, humorous, and touching series."
Though the trailer mostly contains small snapshots of what are surely quite meaningful scenes, stick around for the last few seconds–you're sure to get a bit misty-eyed.
Will you be tuning in? Check out the trailer and decide, AFTER THE JUMP…