A former Little Caesars employee has filed a lawsuit accusing the Detroit-based pizza chain of denying employees health insurance benefits for legally married same-sex couples, Reuters reports: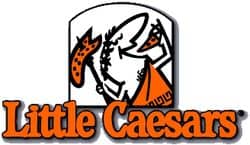 The lawsuit was brought in state Superior Court in Orange County, regional headquarters for the nation's third-largest pizza chain, by Frank Bernard, 47, who said he quit his job after Little Caesars refused to extend coverage to his husband of six years.
"I didn't want anything special, I just wanted the same benefits package as heterosexual couples," Bernard said at a news conference in Los Angeles.
The lawsuit names Little Caesars Enterprises and its parent company, Ilitch Holdings, as defendants, accusing them of discriminating against Bernard on the basis of his sexual orientation, in violation of California law.
It cites a letter Little Caesars presented Bernard explaining a benefits policy that defined "spouse" as "the one person to whom you are legally married under the laws of the state in which you reside, including common law spouse, and who is the opposite gender from you."
Same-sex marriage remains illegal in Michigan, although the voter-approved ban is currently awaiting ruling by the Sixth Circuit Court of Appeals. The state also has no protection against discrimination in the workplace for LGBT individuals. 
Gloria Allred is representing Bernard.