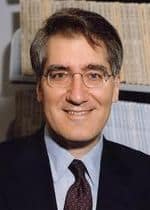 Jeremy Hooper over at Good As You points out that during a discussion on Catholic radio last week about openly gay Christian singer Vicky Beeching, National Organization for Marriage co-founder Robert George admitted he coulnd't think of any "logical stopping place" between gay-affirming Christians and pedophile-affirming or serial killer-affirming Christians. 
George did, however, make a point to say that there would still be "psychological stopping places" between those different types of Christians…there's just no "logical" ones.
And if there's one thing George is concerned with, it's logic. 
Listen, AFTER THE JUMP…