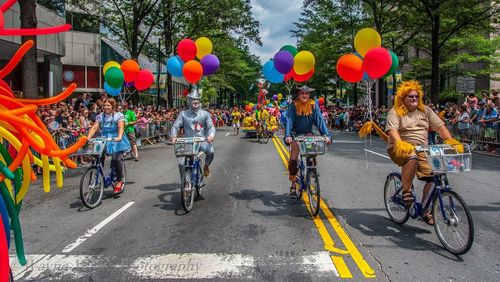 Thousands of people marched and celebrated in uptown Charlotte over the weekend for the city's gay pride festival, Charlotte Observer reports:
The parade drew corporate sponsors, City Council members, allies and members of the gay community. Parade goers supported the parade participants with rainbow-colored dogs, pink boas and signs like "God Adores You."
The festival, which ran Saturday and Sunday, was expected to draw more than 80,000 people, event organizers said, though Charlotte Mecklenburg police Capt. Mike Campagna declined to provide a crowd estimate. […]
Several churches made appearances in the parade, with signs like "God Loves Everyone" from St. John Baptist Church, "God Invites. We Welcome. All." from Caldwell Presbyterian Church and "Discrimination is a Sin" from Wedgewood Church.
There were few protesters out on Sunday. A half-dozen people stood along Tryon Street, holding signs like "God Hates Pride" and "Pornography/Pathway to Hell's Fire."
The AP adds that one of the honored guests at the parade was Crystal Moore, the Latta, SC police chief who was fired earlier this year by the town's homophobic mayor. Moore was subsequently reinstated by a public vote. 
[photo via Facebook/Wayne White Music Photography]