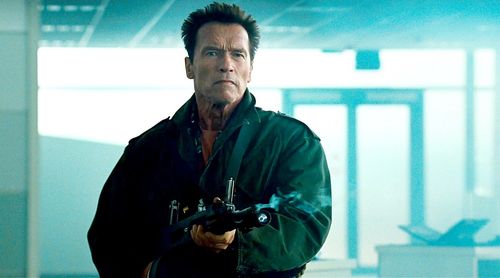 In an interview with Grantland, 'Expendables 3' director Patrick Hughes was asked about the newly released film's final scene alluding to a relationship between Arnold Schwarzenegger's and Jet Li's characters.

Did the former-Governator just silently flip off Prop 8? Are two of the Expendables together by the end of the movie? 'I believe they are,' Hughes says, like he just got away with something amazing.
Buzzfeed breaks down the scene in question (spoiler alert): 
In the final scene of the film, the Expendables are at their favorite dive bar celebrating another successful mission of killing an endless parade of faceless bad guys. Lead Expendable Barney Ross (Stallone) approaches his old rival Trench (Arnold Schwarzenegger), who is commiserating with one of Ross' former compatriots, Yin Yang (Jet Li), both of whom swooped in to help save Ross' team in the climax of the movie.
"So, you're working for Trench now?" Ross asks Yang, who responds by just shooting Trench a knowing look and a smile. As Ross turns to walk away, Trench and Yang lean in even closer to each other, grinning so widely, they almost start to giggle.
"You guys want to get a room?" asks Ross.
"We don't need a room!" Trench says with a laugh. He pulls Yang in close, Yang rests his head on Trench's chest, and the two of them laugh contentedly.
As Ross walks away, Trench exclaims, "So jealous!"
Expendables 3 starring Sylvester Stallone, Jason Statham, Jet Li, Arnold Schwarzenegger, Antonio Banderas, Kelsey Grammer, Kellan Lutz, Mel Gibson, and Harrison Ford is in currently in theaters. 
Planning on seeing the film?