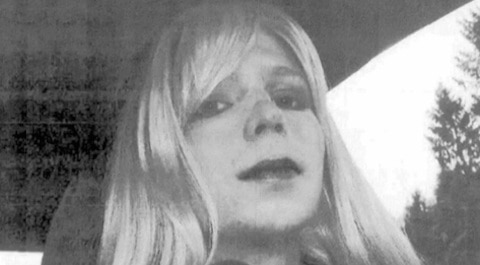 Convicted Wikileaker Chelsea Manning has released a statement from prison saying that the military has given her nothing but "lip service" regarding the gender-reassignment treatment that she asked for this time last year. 
NBC News reports:
In an exclusive statement to NBC News, the former Army private once known as Bradley Manning said life in the military lockup at Fort Leavenworth, Kansas, has restricted her ability to express her gender identity. "For example, in my daily life, I am reminded of this when I look at the name on my badge, the first initial sewed into my clothing, the hair and grooming standards that I adhere to, and the titles and courtesies used by the staff. Ultimately, I just want to be able to live my life as the person that I am, and to be able to feel comfortable in my own skin."
Last month, Defense Secretary Chuck Hagel announced Manning would receive "rudimentary treatment" for her gender transition. Manning's lawyers, however, have said that the military has failed to carry out Hagel's recommendations. Her lawyers announced last week that they will sue the military if the Army fails to provide manning with treatment by September 4. 
Read Manning's statement HERE.