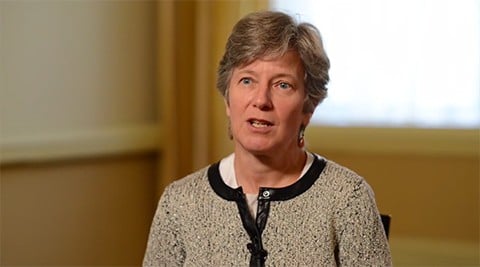 Top civil rights lawyer for Gay & Lesbian Advocates & Defenders Mary Bonauto will be joining the legal team challenging Utah's ban on same-sex marriage, according to BuzzFeed.
Bonauto is perhaps the preeminent civil rights attorney in the United States where same-sex marriage is concerned. In a New York Times profile last year, Roberta Kaplan remarked, "No gay person in this country would be married without Mary Bonauto." Bonauto argued against and defeated the state of Massachussetts' ban on same-sex marriage in 2003–the first state in which such a ban was brought down–and also served on Edie Windsor's legal team in last year's seminal Supreme Court decision that gutted section 3 of DOMA. Said Freedom to Marry's Evan Wolfson of Bonauto's contributions, 
"Not only did GLAD lead in teeing up the litigation strategy that brought down DOMA, but Mary was the unsung engine of the friend-of-the-court presentations made to the Supreme Court in both marriage cases last year."
Bonauto and GLAD's expertise will be of particular use in the Utah case:
"GLAD brings the perspective, insights, and distillation that come from long experience on marriage and the related issues, and the good sense to take nothing for granted," Bonauto said. "We've also won this issue in courts, and worked with others to win in state legislatures and at the ballot box. That has given us a deep feel for the concerns and hesitations out there and insights about how to make our case and find shared values that move us forward."
Specifically as to the DOMA litigation, she added, "We hope that the strategic thinking on DOMA — about how to get to a win on DOMA that would also position us to keep moving forward to marriage — will be useful here as well."
The case against Utah is noteworthy, and likely drew Bonauto and GLAD's attention, because both the plaintiffs and the defendant (the state) have asked the U.S. Supreme Court to intervene and take up the matter. The result of which could be a far-reaching ruling that could make marriage equality the law of the land in all 50 states.