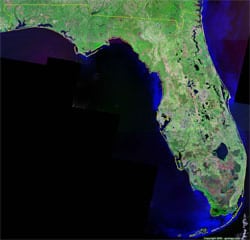 Florida's Second District Court of Appeals has asked the state's Supreme Court to decide whether the ban on same-sex marriage passed by 62% of Floridian voters in 2008 is unconstitutional, the AP reports. In its decision, the Second District Court urged the higher court to take up the matter due to "great public importance":
The ruling is connected to a Hillsborough County divorce case involving a same-sex couple who had been married in Massachusetts but since relocated to the Tampa area. Their petition to dissolve their marriage was rejected by a Florida judge who noted that state law does not recognize gay marriage.
"Resolution of the constitutional questions will no doubt impact far more individuals than the two involved here," states the unsigned opinion. "And there can be little doubt that until the constitutional questions are finally resolved by the Florida Supreme Court or the United States Supreme Court, there will be a great impact on the proper administration of justice in Florida."
A panel of judges with the Lakeland based appeals court earlier this summer rejected a request to forward the case up the state Supreme Court. But that ruling was overturned in a 10-3 decision by the entire appeals court.
Florida's ban on same-sex marriage has been overturned on five separate occasions now. 
Florida's Attorney General Pam Bondi, unswayed by the latest ruling against the marriage ban which came only last week from U.S. District Judge Robert L. Hinkle, has stated that she hopes the U.S. Supreme Court will settle the question of gay marriage.