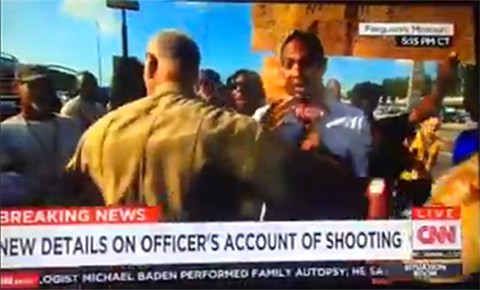 Out gay journalist Don Lemon was in Ferguson, Missouri yesterday to cover the protests in the aftermath of the killing of Michael Brown. While live on CNN, Lemon was seen being physically pushed by police officers. Meanwhile, reports continue to file in about excessive force being used by law enforcement against protesters. Mediaite reports: 
"We've been standing here all day," Lemon continued to report as the officer moved him and other protesters back.
"We've got rights!" a woman behind him screamed.
"I'm not going to resist a police officer," Lemon said and he moved backwards. "Now you see why people are so upset here, because we have been here all day," he added. "We're on national television. So imagine what they are doing to people when you don't see on national television, the people who don't have a voice like we do." 
Watch the video, AFTER THE JUMP…