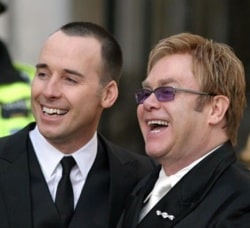 Calling all attractive, young musicians! Elton John, hubby David Furnish, and master of television Alan Ball want you to star in their (yes, their) upcoming HBO drama, Virtuoso. Set in 1790's Vienna at an elite music academy, the pilot episode of the new show will have this amazing gay trifecta backing it and they are currently seeking out stars.
Show Biz 411 reports:
The academy is run by our old friend from "Amadeus," Mozart's nemesis Antonio Salieri. There's lots of music, ruffled shirts and sex of all kinds. There are probably a lot of candelabras set on ornate pianos, too. Knowing Ball, a whole universe will be set up for the musicians, the teachers, and the wealthy music patrons of Vienna. Sounds like there might be a lot of private recitals and lessons, as well…
The cable network is also in a deal now with Mick Jagger's company for a series about rock music in the '70s with "Boardwalk Empire" writer Terry Winter.
Sounds like fans of Ball and Winter's previous ventures have a lot to look forward to in the coming years. And perhaps Sir Elton will make a virtuosic piano appearance himself? One can only hope.
Will you be tuning in to Virtuoso? Sound off in the comments below!