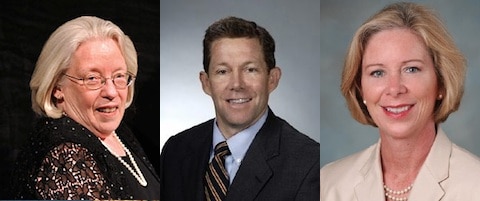 Here are a few takes on yesterday's historic hearing of six separate gay marriage cases from Ohio, Kentucky, Michigan, and Tennessee, at the Sixth Circuit Court of Appeals. Above, Judges Martha Daughtrey, Jeffrey Sutton, and Deborah Cook.
Our legal editor Ari Ezra Waldman posted a preview of the arguments yesterday and will have some analysis coming up. For now, here are a few excerpts from various media reports.
Listen to audio from the proceedings HERE.
Based on their line of questioning, two judges — U.S. Circuit Judge Martha Craig Daughtrey and U.S. Circuit Judge Jeffrey Sutton — seemed prepared to rule against bans on same-sex marriage. The remaining judge, U.S. Circuit Judge Deborah Cook, was relatively quiet, but appeared poised to rule in favor of the laws. Similar to other federal appeals courts, the panel seems headed to make a 2-1 decision in favor of marriage equality.
Although Sutton didn't make an effort to telegraph how he'd rule, throughout his questioning he suggested he believes  prohibition on gay nuptials are unconstitutional. Ruminating on the changing societal perception of marriage, Sutton said a ban a same-sex marriage "seems to hard to justify even on rational basis grounds" if the institution is intended to express love and commitment.
That said, Sutton also had tough questions for attorneys seeking to overturn bans on same-sex marriage, posing the inquiry of why the LGBT rights movement would want to proceed through the judicial process — as opposed to legislative and ballot process — if the desired result was changing hearts and minds to achieve greater acceptance.
In three hours of back-and-forth questioning, it appeared that neither side could take victory for granted in the United States Court of Appeals for the Sixth Circuit, where the cases from Kentucky, Michigan, Ohio and Tennessee were heard by two judges appointed by President George W. Bush and one by President Bill Clinton.
Judge Jeffrey S. Sutton, one of the Bush appointees and a likely swing vote among the three, repeatedly asked why gay rights advocates wanted to use the courts to hasten an outcome they were gradually winning through elections and changes in attitude.
"I'd have thought the best way to get respect and dignity is through the democratic process," he said, expressing a view that, in practice, would most likely deliver a victory to the states seeking to keep bans on same-sex marriage.
It became clear after three hours of arguments that the panel could become the first roadblock for proponents of same-sex marriage who have had an extraordinary winning streak in knocking down state restrictions following a landmark decision by the Supreme Court in 2013.
That 5 to 4 ruling struck down the part of the federal Defense of Marriage Act that defined marriage as only between a man and a woman.
But a panel of three randomly chosen judges of the U.S. Court of Appeals for the 6th Circuit left questions about whether it would follow the lead of two other appeals courts. Those courts said the reasoning of the Supreme Court's decision meant that states lacked the right to limit marriage to opposite-sex couples and to deny recognition of unions conducted elsewhere.
Cook, also a Bush appointee, was largely silent throughout the afternoon, with the exception of a few questions that seemed intended to help anti-gay-marriage attorneys hone their arguments. She is so known for her conservatism that she was on the short-list to be appointed to the Supreme Court for the vacancy filled by Samuel Alito.
One concern for Sutton was the fact that the Supreme Court passed last year on a prime opportunity to assert a federal right to marriage. At the same time the high court considered the Windsor case, it also dealt with Hollingsworth v Perry, an appeal of a federal court in California's decision to strike down a gay marriage ban put in place by voters in 2008 via Proposition 8. The court dismissed that case — and in the process let the California decision stand — on technical legal grounds unrelated to the question of gay rights.
"It does seem fair to say the Supreme Court's trajectory favors" the pro-gay side, Sutton said. Citing cases that went in favor of gay rights, he then noted, "but they didn't reach today's issue in Hollingsworth."
The 6th Circuit presents gay marriage foes with their best opportunity so far to halt an unbroken streak of more than 30 state and federal cases that have gone for pro-gay groups since Windsor. Sutton and Cook are both appointees of the Bush administration, which vetted federal judge candidates to ensure their conservative bona fides.
That's a shift from the 4th and 10th circuit panels, which were dominated by more liberal or moderate appointees. In all, 15 of the 22 federal judges who have ruled on gay-marriage bans were Democratic appointees.
Constitutional law professors and court observers say that the 6th Circuit could be the first to uphold statewide bans on gay marriage following an unbroken string of more than 20 rulings in the past eight months that have gone the other way.
They point to Sutton, the least predictable judge on the panel. In 2011, he shocked Republicans and may have derailed his own chances to advance to the U.S. Supreme Court when he became the deciding vote in a ruling that upheld President Barack Obama's health care law.
If the 6th Circuit decides against gay marriage, it would create a divide among federal appellate courts and put pressure on the U.S. Supreme Court to settle the issue in its 2015 session. The panel did not indicate when it would rule.