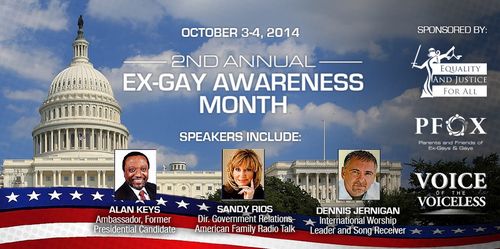 The Parents and Friends of 'Ex-Gays' & Gays (PFOX) is upping the ante on its ploy for an 'ex-gay' pride movement with another 'Ex-Gay' Awareness Month summit. Meant to posture 'ex-gays' and their supporters as a legitimate political movement, the annual summit consists of a number of social gatherings and a march on Capitol Hill designed to "[undermine] the whole effort of the homosexual lobby."
Though last year's summit failed to draw the tens-of-thousands of closeted 'ex-gays' PFOX organizer Christopher Doyle projected would be in attendance, this year's summit hopes to draw interested 'ex-gay' politicos with the likes of one-time Presidential hopeful Alan Keyes, homophobic zealot Matt Barber, and current Fox News contributor Sandy Rios.
"Our second annual conference is sure to raise awareness about the serious issues that ex-gays face," PFOX Executive Director Regina Griggs said in a press release. "We also welcome the families and friends of those living homosexually who support the ex-gay message that change is possible."
Those eager to contribute to the ex-gay's influence on Congress can take advantage of a limited time early bird ticket discount of $10. Attendants unfamiliar with the ins and outs of marching on the Hill can take part in PFOX's complimentary lobbying training seminar in addition to attending a number of "educational" seminars explaining the ways in which the 'ex-gay' community is being denied the manifold federal protections universally afforded to the LGBTQ community.
Watch footage of last year's wildly successful 'Ex-Gay' Awareness summit, AFTER THE JUMP…