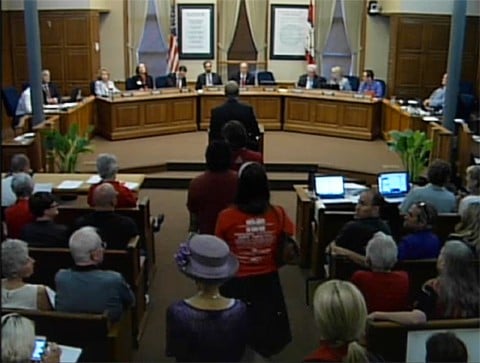 Following nearly 10 hours of debate, the City Council in Fayetteville, Arkansas voted to pass a controversial non-discrimination ordinance by a vote of 6-2 at 3:20 AM Wednesday morning. The ordinance will provide protections for citizens against discrimination based on sexual orientation, gender identity and gender expression in addition to discrimination based on age, gender, national origin, race, religion, disability, ethnicity, familial status, marital status, socioeconomic background and veteran status.
The Fayetteville Flyer reports: 
The new law means landlords and business owners could be investigated and prosecuted for unjustly evicting or firing someone because of their sexual orientation, gender identity, socioeconomic background, marital status or veteran status.
State and federal law prohibits discrimination based on someone's age, gender, disability, race or religion. But in Arkansas there are no state-level non-discrimination laws that cover the other categories, including sexual orientation and gender identity.
The public meeting of the council that begin yesterday also saw many members of the public weigh in on the proposed ordinance. Fayetteville Mayor Lioneld Jordan referenced some of the stories shared by Fayetteville citizens when urging the council to pass the ordinance:
"Just today we've seen many of our citizens who've been excluded from the table of equality, and I believe it's time for everyone to have a place at that table, no matter where they come from, what they believe or who they love," he said.
"When we accomplish that then we can truly hold hands and sing, 'The land of the free and the home of the brave,' and actually mean it. We've got to go to some place we've never been or we'll all just be stuck right where we are."
Watch a news report on the meeting and the packed house the vote drew, AFTER THE JUMP…