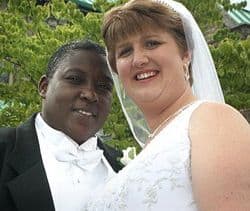 Fredia Hurdle (on the left) fought a long, tough battle to achieve marriage equality in Pennsylvania, the state she and partner Lynn Hurdle called home. Nearly three months ago they won, and Pennsylvania was yet another domino of inequality struck down by the courts. However, in a tragic turn, Fredia passed away last week after suffering a stroke, never having married her partner of 24 years. She was only fifty years old. 
The Pittsburgh Post-Gazette reports:
Maybe they could get officially married in July, Lynn Hurdle thought, to mark the fifth anniversary of their original wedding ceremony. But her daughter planned to marry in October, and Fredia Hurdle said they should wait until after her wedding. It was her year, her "moment in the sun," she told the woman she had long considered her wife.
"It's legal. We have time," she said.
Fredia Hurdle had long been a bus driver, first for Greyhound Lines (where she met Lynn, one of her many passengers, in 1990) and later for the Pittsburgh newspaper. She and Lynn raised children together, including Lynn's daughter Ashley Wise and several of Fredia's nieces and nephews. They were, in short, a caring, loving couple whose story resonated with Pennsylvanians and other Americans alike.
"I was looking for the next 25 or 50 years together," Lynn Hurdle said. "It's been shell shock."
Though their commitment to one another was never officially recognized by the state of Pennsylvania, Lynn and Fredia were married in a July 2009 ceremony, and one would be hard pressed to deny their deep-seeded affection. Still, it is a tragic occurrence and one which will surely not go unnoticed in the fight for marriage equality nationwide.
Our thoughts are with Lynn, the children the couple raised, and the rest of Fredia's family. 
Photo via ACLU.