Hawaii Gov. Neil Abercrombie, who recently lost the Democratic gubernatorial primary to state Sen. David Ige, told reporters this week that it was his decision to call a special session last year to legalize marriage equality that ultimately led to his re-election bid defeat. 
The AP reports: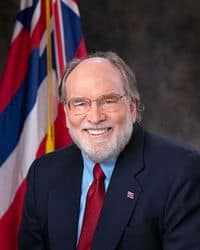 "Republicans crossed over en masse to vote in the Democratic primary, and then the religious factor came in," Abercrombie said. "Doctrinally I was outside the circle and paid for it." He argued that voters were urged to choose his opponent by their religious leaders.
Abercrombie, who spoke to reporters in his office, lost to Ige by a stunning 2-1 margin, the first time a Democratic governor has been unseated in a Hawaii primary.
But Abercrombie said losing was worth it to pass a law legalizing gay marriage.
"There's no way I could live with myself if I thought I was diminishing another human being's ability to reach their full capacity," Abercrombie said.
Executive director of the Hawaii Catholic Conference Walter Yoshimitsu said that he was unaware of any religious leaders urging voters to cross party lines and vote against Abercrombie in the primary. He did add though that many people were upset with Abercrombie's special session last year. 
"We couldn't have figured out what the urgency was," Yoshimitsu said. "If he had dealt with it in the regular session, there would have been more time."
Sometimes it's hard for the heterosexual Christians to see the "urgency" in the push for equal rights, ya know?