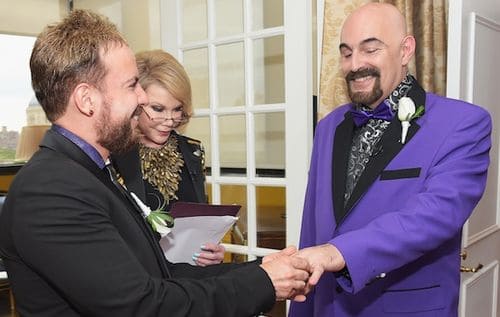 Joan Rivers, the self-proclaimed "Queen of the Gays" and all-around funny lady, was ordained by the Universal Life Church and may quickly become the go-to officiant for New York gay couples. After performing a ceremony atop the Empire State Building in 2013, Ms. Rivers was again asked to perform her duty last week.
HuffPost reports:
On Aug. 15, the 81-year-old comedian, author and icon married William "Jed" Ryan and Joseph Aiello at New York's Plaza Athenee, Out magazine is reporting.
As it turns out, it was the second time down the aisle for the couple. In June, Rivers agreed to marry Ryan and Aiello on the spot at a Barnes & Noble signing of her new book, Diary of a Mad Diva, in Manhattan. Although photos and footage of that ceremony were picked up by numerous media outlets, the couple didn't have a proper marriage license at the time, so Rivers vowed to arrange a second ceremony so the men could legally tie the knot.
Thanks for the love and support, Joan! Now, what celebrity officiant would you want presiding over your wedding? Sound off in the comments below.
Photo via Out Magazine.