Joan Rivers continues to fight for her life Sunday morning in a NYC hospital, according to media reports.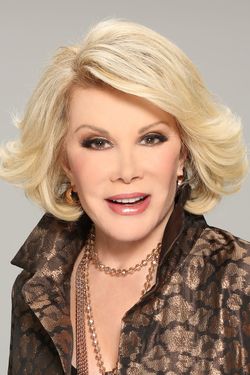 TMZ reports that the comedy icon is not breathing on her own:
According to our sources, the family will have to decide in the next couple of days whether to keep the 81-year-old on life support. We're told the family remains hopeful that if they do decide to turn off the machines, she will make a turn for the better and fight through it.
Rivers was taken to the hospital on Thursday after reportedly after stopping breathing during throat surgery.
Rivers' daughter has said her mother is "resting comfortably" and thanked the public:
Melissa Rivers said in a statement Friday that her mother was "receiving the best treatment and care possible." She also thanked Rivers' fans and friends for their support.
"My mother would be so touched by the tributes and prayers that we have received from around the world," Melissa Rivers said. "Her condition remains serious … We ask that you continue to keep her in your thoughts as we pray for her recovery."
The NY Daily News offered a more dire report:
Sources told the Daily News that Rivers' daughter, Melissa, is "in denial" over her mother's condition.
"She still thinks everything is going to be OK. She is refusing to admit that a world might exist without her mother in it," said a source close to the Rivers family.
"Others that are close to Joan are starting to realize that the outcome they want is very unlikely."
Fellow entertainers have tweeted many messages of support.
Watch an interview (via Just Jared) of Rivers on The Tonight Show with Johnny Carson from 1986, AFTER THE JUMP…