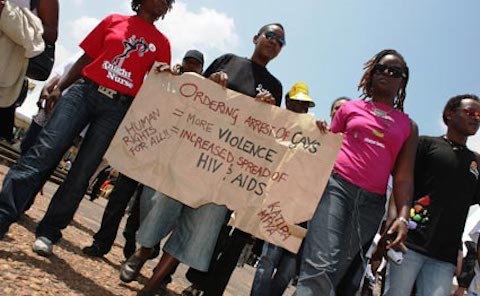 Taking their cues from Uganda, The Republican Liberty Party of Kenya has drafted their very own version of the "Kill the Gays" bill that calls for public death by stoning for "aggravated homosexuality," which is defined as "committing the acts with people below 18 years, if the offender is a person living with HIV, if those persons committing the act are persons in authority over their victims, serial offenders and where a victim is a person with a disability."
For regular old sodomy, Kenyan nationals would be subjected to life in prison. Foreigners, however, would be administered the death penalty by the aforementioned public stoning. As has been seen before in Uganda, Russia, and the U.S., the reprehensible human beings behind this approval of institutionalized murder don't have the fortitude of character to just admit they are gay-hating xenophobes and are instead hiding behind children and families. The petitioner states:
There is need to protect children and youth who are vulnerable to sexual abuse and deviation as a result of cultural changes, uncensored information technology, parentless child developmental settings and increasing attempts by homosexuals to raise children in homosexual relationships through adoption, foster care or otherwise.
Fortunately, this is just a draft bill and is still under parliamentary consideration, but the fact that it was submitted in the first place is frightening enough. Time will tell if this fizzles into nothing or if Kenya is determined to be as atavistic as Uganda and what the fallout from it all will be.