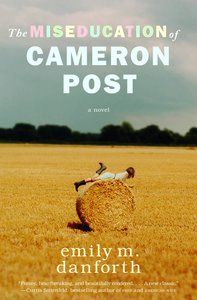 The Miseducation of Cameron Post is a coming-of-age novel about a young lesbian  sent to live with her conservative aunt after her parents die in a car crash. She is subsequently sent to a "de-gaying" camp where she develops a relationship with another girl who becomes her best friend.
The Cape Henlopen School Board in Delaware removed the book from its summer reading list after complaints from parents, allegedly about profanity within the book, but the book's author emily m. danforth (who spells her name in lowercase) and others believe it was due to the subject matter of homosexuality.
When danforth and an AfterEllen campaign protested the school board's decision – a decision they reached by violating their own rules and deciding without proper investigation – the school board took the logical and completely not-crazy next step by canceling the reading list program altogether.
danforth responded with an open letter to the school board, stating in part:
The Miseducation of Cameron Post was included on a librarian-developed list that was part of a summer reading program for incoming freshman. You took the drastic action of removing the book from that list, thereby eliminating it as one of the books students participating in that program might choose to complete their assignment. Yes, my book is (apparently) still available in the school library–which is wonderful–but it is no longer a part of this important summer reading program because of a direct action taken by this school board. Period. That's the very definition of censorship, Mr. Brittingham. But surely you know this. (It does seem that this board rather likes to hide behind its rhetoric.)
The book, as she mentions above, is still available in the school libraries.