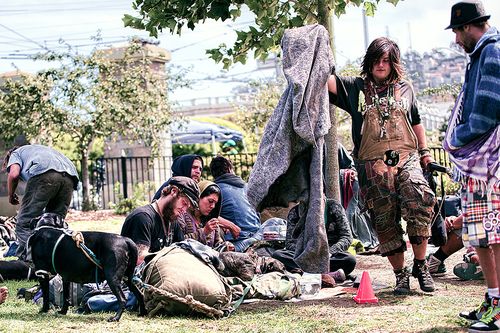 In 2012 the Williams Institute, UCLA's national think tank, published a study estimating that up to 40% of homeless youths (minors between the ages of 12-17) identified themselves as LGBT. An overwhelming 68% of participants in the study reported having experienced rejection from their families and about 54% were abused as a result of their being LGBT. Moreover, over 80% of the respondents to the study were racial minorities.
More often than not, queer youth across the country make a disproportionate percentage of cities' homeless populations. Despite that fact many cities, like the District of Columbia, suspect rely on statistical reporting methods that are likely underreporting the actual numbers. Most of the research being done on the makeup of homeless youth populations relies on numbers reported by adoption networks that queer kids are avoiding.
In a study published earlier this week the Williams Institute found that on average, LGBT adoptees were twice as likely to experience poor treatment within the foster care system as compared to their straight-identified peers. Similar to D.C., LA is dealing with an incredibly large homeless queer youth problem and a dangerous shortage on shelters to house the population. The study, according to chief executive of the Los Angeles LGBT Center Lorri L. Jean [pictured below], is the first of many steps necessary to draw attention to a group of at-risk people that are generally invisible.
"We need to know who these kids are because only if we know who they are can we help them," she told the LA Times. "People refer to it as the 'dirty little secret' that there are so many LGBTQ kids in foster care, but nobody's been able to document it."
In addition to publishing statistics that could better inform the ways in which public resources could be better allocated to service the needs of lesbian, gay, bisexual, and trans youths within Los Angeles,  the authors of the study hope to spread awareness within the youth community that they are not alone.