Studio 69 in Almaty, Kazakhstan set up shop at the intersection of Pushkin and Kurmangazy, streets named after Russian poet Alexander Pushkin and Kazakh composer Kurmangazy Sagyrbayuly. To make the club's location memorable, an ad poster was designed showing Pushkin and Kumangazy themselves intersecting…at the lips. Cue moral outrage.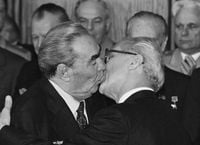 20 activists filed a lawsuit on August 25th claiming the poster "insulted both Kazakhs and Russians," while a descendant of Kurmangazy is threatening to file suit for defamation. Meanwhile, everyone is overlooking that the poster, in addition to being clever and memorable, riffs on the photograph from 1979 of East German leader Erich Honecker and the Soviet Union's Leonid Brezhnev kissing in East Berlin. Still, even though the poster won an award for advertising firm Havas Worldwide Kazakhstan, the firm backpedaled saying, "[W]e officially announce that this poster will not be printed, posted or published in paid media."
Fortunately, everything lives forever on the internet so it's only a matter of time before an individual prints his own posters to hang.