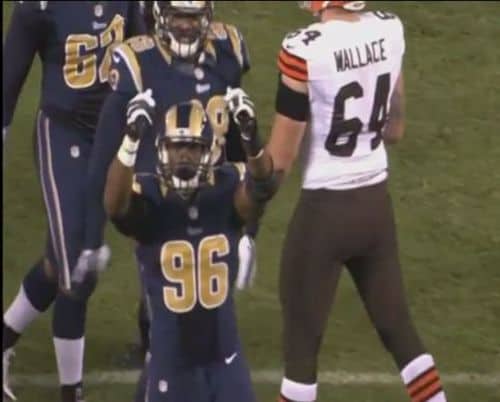 In last night's preseason match-up between the Cleveland Browns and St. Louis Rams, defensive end Michael Sam collided with quarterback Johnny Manziel twice.
On the first of the two sacks, Sam even threw up Manziel's "money" gesture as a celebratory jest.
Watch, AFTER THE JUMP… 
USA Today reports: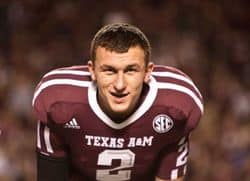 "He's a talented kid,'' Sam said of Manziel. "He isn't called 'Johnny Football' for nothing. It was fun getting to play against Manziel in an NFL game."
Sam now has three sacks this preseason after he recorded his first last week against the Green Bay Packers.
Manziel said he made sure to give Sam props after the game.
"He had an incredible year when we played them at Missouri this past year,'' Manziel said. "The guy goes through a lot of stuff. He gets heckled by everybody, I'm sure. He came up to me and said, 'Hello.' It was just a brief interaction. He played pretty well.''
The Rams have one last preseason game against the Miami Dolphins this Thursday – the final chance for Sam to secure a spot on the official season's roster. Final cuts are announced August 30.
Previously, "Michael Sam Makes Historic NFL Preseaso Debut: 'I Can Play In This League' – VIDEO"