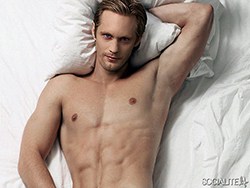 Berlin's first openly gay mayor will resign by the end of the year.

Happy Birthday, Alexander Skarsgard!

Israel and Hamas agree to long term cease-fire. 

Scorcese film Shutter Island being developed into HBO series.

Republicans now have a 67% chance at winning back the Senate according to the NY Times' midterm calculus.
A red carpet round-up from last night's Emmys.

Inside the event, Julia Louis-Dreyfus and Bryan Cranston re-created a Seinfeld era make out session.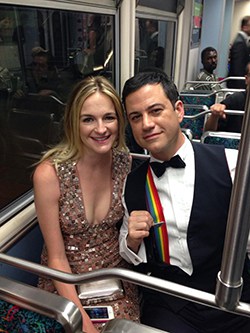 And Jimmy Kimmel wore rainbow suspenders in honor of Mork from Ork.

Judges knew this year's Rose of Tralee winner, Maria Walsh, was gay prior to her publicly coming out: "Rose festival managing director Anthony O'Gara said the organisers were '100% delighted with her' as Rose and the fact that she was gay was neither here nor there. Asked on Radio Kerry if the judges were aware she was gay, Mr O'Gara answered: 'I would think they were, but I certainly didn't go there with them — they're very astute people.' He said Maria, 27, was openly gay, but the judges were no more interested in her sexuality than he was and it would not be their business to question it one way or the other."

Mormon woman excommunicated for promoting the ordination of women priests: "I was excommunicated for stating a fact, which is that men and women are not equal in our Church."
Could virtual reality games be so real they could scare you to death? "'When the commercial version [of Occulus] comes out, somebody is going to scare somebody to death – somebody with a heart condition or something like that. It is going to happen. Absolutely.'"

Amazon has sold fewer Fire phones than Jack White sold vinyl records.

Alleged audio of Michael Brown shooting released.

NYT faces backlash after front-page piece on Michael Brown refers to the slain teenager as "no angel".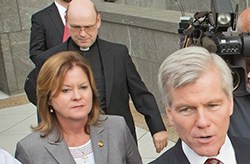 Former Virginia Governor Bob McDonnell is now living with a Catholic priest who was arrested in 2010 for having sex in a parking lot.

NBC News reports that an American citizen has been killed while fighting for ISIS: "Douglas McAuthur McCain, of San Diego, California, was killed over the weekend fighting for the Islamic State of Iraq and al-Sham (ISIS), according to the Free Syrian Army. Photos of McCain's passport and of his body — which feature a distinctive neck tattoo — have been seen by NBC News. According to an activist linked to the Free Syrian Army who also saw the body and travel document, McCain was among three foreign jihadis fighting with ISIS who died during the battle. The State Department was not immediately able to comment on the report."

Meanwhile, ISIS is reportedly demanding $6.6 million for the release of 26-year-old American woman who was captured in Syria while serving as a humanitarian relief worker. 

Is Michael Sam going to be cut before the season officially starts?

United Airlines flight forced to land after passengers get into fight over 'knee defender' device that prevents people from being able to recline their seat-backs.