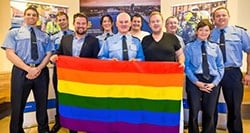 Limerick police station to become first in Ireland to fly rainbow flag in support of gay pride: "It's basically a symbol by them to show that the guards are there for us if we need them to support any incidents of homophobic crime. They are basically just reaching out and it's a huge step forward for the guards in Ireland as well that this symbol is going to be put out there."
It's now legal for California pet owners to dine with their pets outdoors anytime an outdoor patio is provided. 

Madonna revamping website in preparation for new album launch?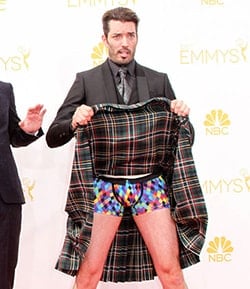 ICYMI (and happen to be an HGTV junkie), Property Brother Jonathan Silver Scott wore a kilt and flashed some colorful underwear on the Emmys red carpet. 

Chelsea Handler said goodbye to her late night show and brought a gaggle of celebrities do give her a musical send-off. 

Even Homer Simpson has taken the ice bucket challenge now. 

And so has a two-year old.

Bingham Cup, named for gay 9/11 hero Mark Bingham of United 93, kicks off Sunday in Sydney, Australia. 

Zara made some kids' PJs that were way too Boy In The Striped Pajamas.

John Stewart obliterates Fox News for their coverage of the Michael Brown shooting.

'Sleep drunkenness' is a real thing: "In confusional arousal, sleepers wake up in a disoriented state and perhaps behave strangely in the process. They may not even remember what happens during the episodes. The condition often occurs when someone wakes up during non-REM sleep, and can be triggered by a "forced awakening," the study authors wrote. It can potentially cause violent behavior during sleep or right as the person wakes up."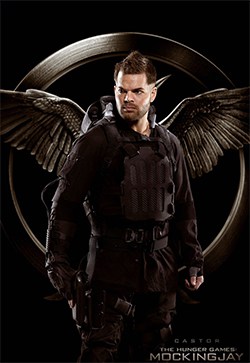 New Mockingjay Part 1 posters look at 'The Rebel Warriors.'

Meet the next Bachelor, Chris Soules, which if you watched this season's Bachelorette might not be a surprise.

A Full House revival could be in the works. 

Adam Lambert looks good in leather.

Jessica Chastain calls out Hollywood for not making a Scarlett Johansson superhero movie: "'Where is the Scarlett Johansson superhero movie? I don't understand it, why is it taking so long for this?' Jessica told The Wrap. 'This woman clearly shows that people want to go see her in the movies. Lucy, didn't it beat Hercules by a lot opening weekend, when it was made for a lot less? She shows that she kicks ass, she's a great actress. Under the Skin is an incredible film, and why are we still waiting for a go-ahead on a superhero movie starring Scarlett Johansson? To me, it's a no-brainer,' Jes added. 'You want to make money, put Scarlett Johansson in a superhero movie!'"