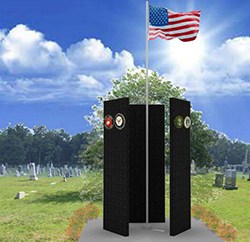 Design revealed for memorial to gay veterans in Congressional Cemetery's 'gay corner' on Capitol Hill: "The political climate is such that it would still take years to get Congressional approval to place a monument on the Washington Mall," the site continues. "That should be a goal for the future. This memorial will differ from a monument on the Mall in that veterans will be able to memorialize their service on the grounds of the National LGBT Veterans Memorial." 

Meet the Velociraptor cat. Clever girl.

Zelda Williams deletes Twitter account after being trolled in the wake of her father's death.

ICYMI, Dave Franco's stripped down moment in The Neighbors (warning: work unfriendly).

Meanwhile, Idris Elba bares some skin for GQ.

LeAnn Rimes claims she and husband Eddie Cibrian are 'a gay man's wet dream': "I sing, you can look at him, and it's perfect."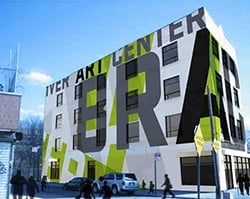 T

wenty-six year old openly gay New York City council member Ritchie Torres seeks to build a community center for gay senior citizens in the Bronx, the only borough without a gay community center of any sort: "I see the Bronx as the Bible Belt of New York City," says Torres. "It's tough. It's hard to be gay there." It's a borough where people still use clunky half-closeted phrases including "down low" and "men who have sex with men." Torres says he tries to represent "LGBT people who live outside the gay meccas of New York." 

The Leftovers gets renewed for season 2.

Tom Hiddleston may be the next Ben Hur.
Former White House aide to Presidents Reagan and George H.W. Bush rails against Disney for "pushing the gay agenda": "A former Disney executive I spoke with told me the company has taken direct aim at children to indoctrinate them about gay lifestyles and gay marriage through shows it airs on The Disney Channel and Disney XD. The former executive said one of the more subtle techniques is to incorporate the colors of the gay-pride flag in as many shots as possible. The colors are woven in as a wink and nod to the gay community and show up on shirts, hats, posters, stacked cups and rings. The practice has been picked up by other children's networks and national advertisers. Disney also pushes the gay agenda by introducing openly gay characters and couples on its children's programing. Again, that is their right, but should they be in the business of entertaining children or indoctrinating them?"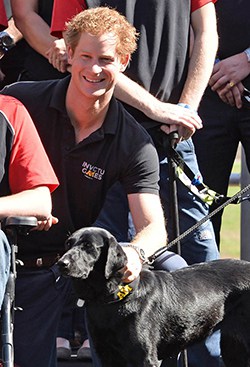 Prince Harry gets in a photo-op with a black lab while opening the Invictus games in London. 

Kellan Lutz apparently prefers Chihuahuas. 

Jimmy Fallon spoofs House of Cards with digital short, House of Cue Cards.

Celine Dion has announced an indefinite break from performing due to husband Rene Angelil's health concerns.

Kristen Bell and the entire cast of Veronica Mars to reprise their roles for web-series, Play It Again, Dick.

Allison Williams gets some fight training as she prepares to play Peter Pan in the upcoming Peter Pan Live and pays tribute to Robin Williams.

Star Trek writer rebukes fan who was offended by gay characters and storyline: "If he thinks the fear of alienating a few closed-minded readers is going to stop me from writing stories that feature and promote characters of diverse backgrounds— including LGBTQ characters, persons of color, and people who belong to ideological or philosophical minorities — he must be out of his mind…I will never be made to feel shame for doing this. I am proud that we've been able to do this. Whenever someone asks 'why do we need to keep talking about embracing diversity in stories, and seeking out diversity in the authors and creators and portrayers of speculative fiction?', I will say it's because too many authors and artists and filmmakers still get letters like this one. We need to work toward a better future in which no one would even *think* of writing an e-mail like this."