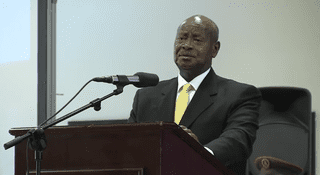 Ugandan President Yoweri Museveni has urged the country's Parliamentary Caucus, led by the National Resistance Movement, not to prioritize the resurrection of its anti-homosexuality law, despite his clear intention to bring it back, albeit with different terms. A revised version of the law, according to Museveni, would prioritize penalization for "recruitment of children and exploiting financially vulnerable youths."
The Ugandan government nullified the original version of the law on a technicality after a review found that it was created without the necessary quorum–a third of the parliamentary body. The law, supported by both of Uganda's dominant political party and its opposition, drew widespread criticism from the West, prompting the freezing and cancellation of governmental aid.
Despite the invalidation of the law, Museveni has implored members of the Ugandan parliament to debate the legislation at length when it is re-introduced for review. Describing the situation as a delicate problem that needed to be dealt with. Museveni has created a committee of 10, chaired by his Vice President Edward Kwanuka Sekandi, to develop a revised version of the law. In theory, the new law would not carry hard penalties for openly gay individuals.
"If two consenting adults go into their room and decide to be stupid, let them be," Parliament Member Medard Bitekyerezo said of the President's supposed shift in opinion. "We agreed to come up with a new version that doesn't hurt our Western friends but also protects Ugandans."
Listen to Ugandan President Museveni's remarks after signing Uganda's original anti-homosexuality bill into law, AFTER THE JUMP…