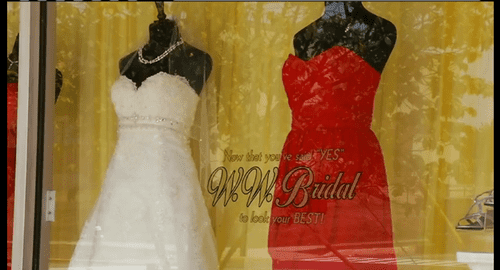 A bridal store in Columbia County, Pennsylvania is under fire for turning away a lesbian couple looking to buy wedding gowns, the AP reports:
W.W. Bridal Boutique owner Victoria Miller tells the newspaper that "providing those two girls dresses for a sanctified marriage would break God's law."
Bloomsburg Town Council plans to discuss the incident at a meeting on Monday. Council members say they will consider whether to propose legislation to ban businesses from refusing to serve gays and lesbians.
Check out a news report on the story, AFTER THE JUMP…
The New York Daily News adds: 
In the meantime, Miller isn't budging. She's hired an attorney to help defend her in case a lawsuit is filed.
Her lawyer Al Luschas says his client has a "liberty interest" in refusing to be involved in a wedding that violates her "firmly and honestly held religious beliefs."
Pennsylvania remains one of the 29 states without a comprehensive, sexual orientation-inclusive non-discrimination law on the books.