As expected, the plaintiffs in the case challenging Utah's ban on same-sex marriage have filed a brief asking the Supreme Court to finally weigh in on the question of whether all citizens have a fundamental right to marry. 
The Salt Lake Tribune reports: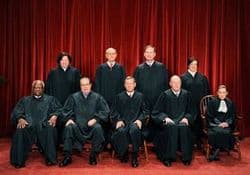 "Today, our nation's same-sex couples and their children live in a country where they may be denied legal recognition as a family or may find their marriages invalidated simply by virtue of crossing a state line," according to the brief filed with the U.S. Supreme Court in support of Utah's request that the court hear its case.
"This court should grant the petition and hold that denying same-sex couples the fundamental freedom to marry and to have their marriages recognized violates our nation's cherished and essential constitutional guarantees."
Said National Center for Lesbian Rights Legal Director Shannon Minter:
"Same-sex couples experience real hardships as a result of being denied the freedom to marry and to have their marriages respected wherever they travel or live. In the past year, more than 30 state and federal courts have ruled that state laws barring same-sex couples from marriage are unconstitutional. We hope the Supreme Court will consider this issue in its next term and will concur that same-sex couples and their children are an integral part of our nation's fabric and must be given the same protection and respect as other families."    
Earlier this month, Utah became the first state to appeal a ruling striking down a state ban on gay marriage to the Supreme Court. The Utah government, led by Attorney General Sean Reyes, is arguing that states have a right to continue defining marriage as they see fit and has pledged to "spend whatever it takes" to keep the ban in place.  
This week, it was announced that head civil rights lawyer for Gay & Lesbian Advocates & Defenders Mary Bonauto would be joining the legal team challenging Utah's same-sex marriage ban. 
Read the brief below: