Attorneys for three Utah gay couples challenging the state's ban on same-sex marriage have announced their plans to join the state in asking the Supreme Court to take up a 10th Circuit decision striking down the ban.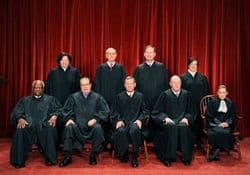 On Tuesday, Utah became the first state to appeal a ruling striking down a state ban on gay marriage to the Supreme Court.  
The AP reports:
It is vital that justices weigh in about whether state same-sex marriage bans violate the Constitution to settle the matter for a nation that needs an answer, said Kate Kendell, executive director for the National Center for Lesbian Rights. The group is representing the couples alongside private attorneys in Utah.
"Because we understand the tremendous importance of this issue, and that the ultimate question can only be finally resolved at the Supreme Court, we agree with attorneys for the state of Utah that the court should take the case and provide a final resolution," Kendell said.
The New York Times adds:
Neal Katyal, a former acting United States solicitor general who also represents the Utah couples, said the importance of the issue warranted an unusual approach.
"This is the defining issue for the Supreme Court in our lifetime," he said. "The notion that the government could deny life's greatest partnership on the basis of orientation is capricious and strikes at everything this country is about."
He said the couples would file a brief in the coming weeks joining Utah's request that the Supreme Court hear the case. Such a filing would come in time for the justices to consider the case at their first private conference when they return from their summer break. Should the justices agree to hear the case, they could schedule arguments in the winter and issue a decision by June.