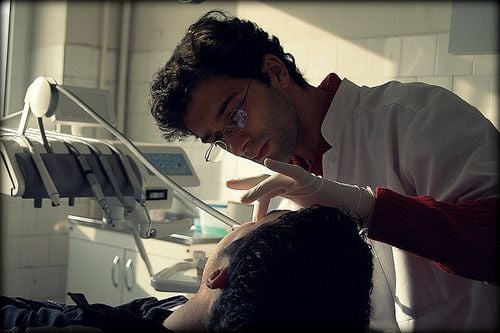 The next big step in combating the spread of HIV could come from your dentist's office. Testing and knowing one's HIV status are crucial components to curtailing HIV, but oftentimes there exists a significant social stigma that comes with requesting a test from one's primary physician. Dentists offices, according to University of Chicago Center for Health Administration Studies Faculty Chair Dr. Harold Pollack, provide the perfect setting for making HIV testing de rigueur. Unlike clinics geared towards sexual health, which can be few and far between depending on one's community, dentists' offices are widespread and more easily accessible.
In the same way that pharmacies offer tests for cholesterol, blood pressure, and vision, dentists offices could branch out their services offered. A visit to the dentist could begin with a quick swab one's cheek and end with HIV test results without any blood work necessary.
"We don't need anything from our primary-care physicians," Pollack explained to Ozy. "We want nice-looking white teeth with no cavities."
Generally speaking people visit the dentist more frequently than they do their doctors, according to Pollack's research. He estimates that nearly 70% of high-risk individuals schedule annual dental appointments, whereas most people only go to the doctor when they are certain that something is wrong.
Dentists in Canada, Mexico, and South Korea have begun administering HIV screenings as a part of a regular checkup. In the U.S., the practice is not nearly as common, and not without significant hurdles. For all of their scarcity, HIV clinics are more than merely a place that will administer health screenings and medication. Clinic staff are trained to handle and  share kinds information that dentists don't have to deal with very often. But Pollack is certain that HIV testing deserves to a feature of modern dentistry.
"In the U.S., we've done a bad job of carving oral health out, having separate insurance plans." He insisted. "We need to have a mentality that really grasps that oral health is part of health."