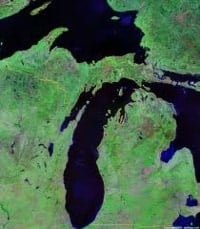 A new study out of UCLA Law School's Williams Institute indicates that Michigan could stand to generate over $53 million in revenue from same-sex marriage ceremonies over three years. The study also found that nearly 7,300 couples could be married in those three years alone.
The data is based on census and experiential statistics from states that have already legalized same-sex marriages, and though there is indication that same-sex couples filing jointly would reduce the state's income tax haul, the boon to business would more than make up for the loss. 
Edge Boston reports:
Researchers say the couples and their loved ones would spend about $34.1 million on wedding paramagnets and Michigan tourism in the first year alone. Another $19.2 million would be spent over the following two years. According to the study, that spending could support between 152 and 457 full-time and part-time jobs and generate about $3.2 million in sales tax and revenue for Michigan and the local government…
"What we've seen, over and over again, is that the tides are shifting on marriage equality," Gina Calcagno, coalition manager for Michigan for Marriage, told [MLive.com]. "Aside from the heartfelt belief this is the right thing to do, we're seeing this is the economically correct thing to do as well. $53.2 million coming into a state like Michigan is nothing to scoff at."
After a district court judge ruled Michigan's same-sex marriage ban unconstitutional in March, the Sixth Circuit Court of Appeals placed an indefinite stay on the decision. Only time will tell if the appeals court upholds the lower court ruling, though the track record for appeals thus far is a positive indicator. 
Fingers crossed for the thousands of same-sex couples and businesses who would benefit from marriage equality in Michigan.