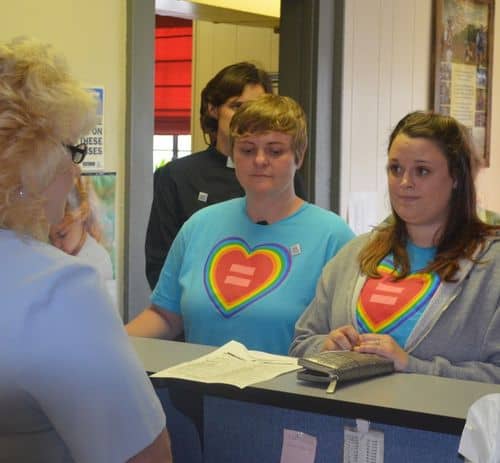 Last week, six gay and lesbian couples applied for marriage licenses at a local courthouse in Greenville, South Carolina, knowing full well that their requests would immediately be denied. And they were.
The protest campaign, named "We Do" and spearheaded by the Campaign for Southern Equality, was inspired by Monday's decision by the Fourth Circuit Court of Appeals that struck down Virginia's gay marriage ban. That ruling has jurisdiction over South Carolina.
The very next day, South Carolina Attorney General Alan Wilson said he would continue to defend the state's ban on same-sex marriage.
The Greenville News reports on other movements in the state:
On Wednesday S.C. Equality announced a petition drive to encourage Wilson to change his mind. North Carolina Attorney General Roy Hooper announced on Monday he would not defend North Carolina's ban.

"Instead of spending money on our state's crumbling infrastructure or improving education and access to healthcare in our state, Attorney General Wilson plans to waste our tax dollars defending a ban that will ultimately be struck down," said Ryan Wilson, S.C. Equality executive director.
You can sign the petition here.
According to the Campaign for Southern Equality, roughly 150 people showed up to counter-protest the gay and lesbian couples during the "We Do" event.
Watch a WSAV-TV news segment about it all, AFTER THE JUMP.