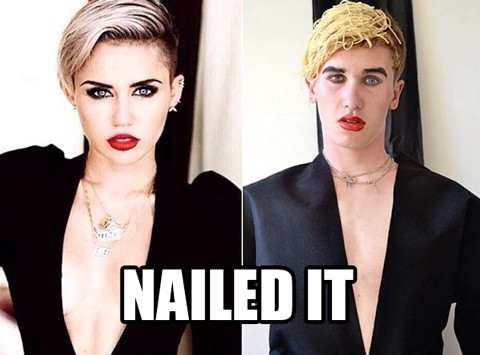 Seventeen-year-old Liam Martin (aka waverider_) has amassed over 1,559,656 Instagram followers over the last eight months and has appeared on the Today show and ABC News websites by posting low-fi recreations of celebrity photographs.
He has mimicked Rihanna, Miley Cyrus, Katy Perry, Selena Gomez, Kim Kardashian and even Effie Trinket from The Hunger Games. Some of the celebrities have followed and complimented his work, and he uses his platform to discourage cyberbullying and encourage people to be more creative.
Yahoo shares more about the young mimic:
Make no mistake, a lot of time, energy — and money! — goes into each one of Martin's photos. He posts a new picture pretty much weekly and it takes that much time to execute his vision as far as coming up with a subject and buying the supplies. The teen estimates that he spends about $45 on props for each shoot, which take place at his family home "against one wall we use all the time."
The hardest one to recreate so far? "The Katy Perry photo from her 'Dark Horse' music video. It took me three hours" to get just right. The headpiece was made out of "M&Ms and string," he reveals. The shirt? It featured hand-cut pieces of paper attached to the nude-colored top. Fortunately, all his hard work paid off — the photo has 439,000 likes
"My mom and my nana were helping me with that one and it took hours," Martin recalls, adding that he often leans on them for assistance. "Most of the time my mom helps me get dressed up and she'll take the photo for me. If my [extended] family is over, my nana and my pops — my grandpa — will help me. The whole family loves it too. It's now become normal for them."
Check out more of his photos AFTER THE JUMP…